Two and a half years ago Macy Miller moved into her 196 square foot tiny house in Boise, Idaho, with her partner, James, and a great dane puppy, Denver. But a lot has changed since then. . .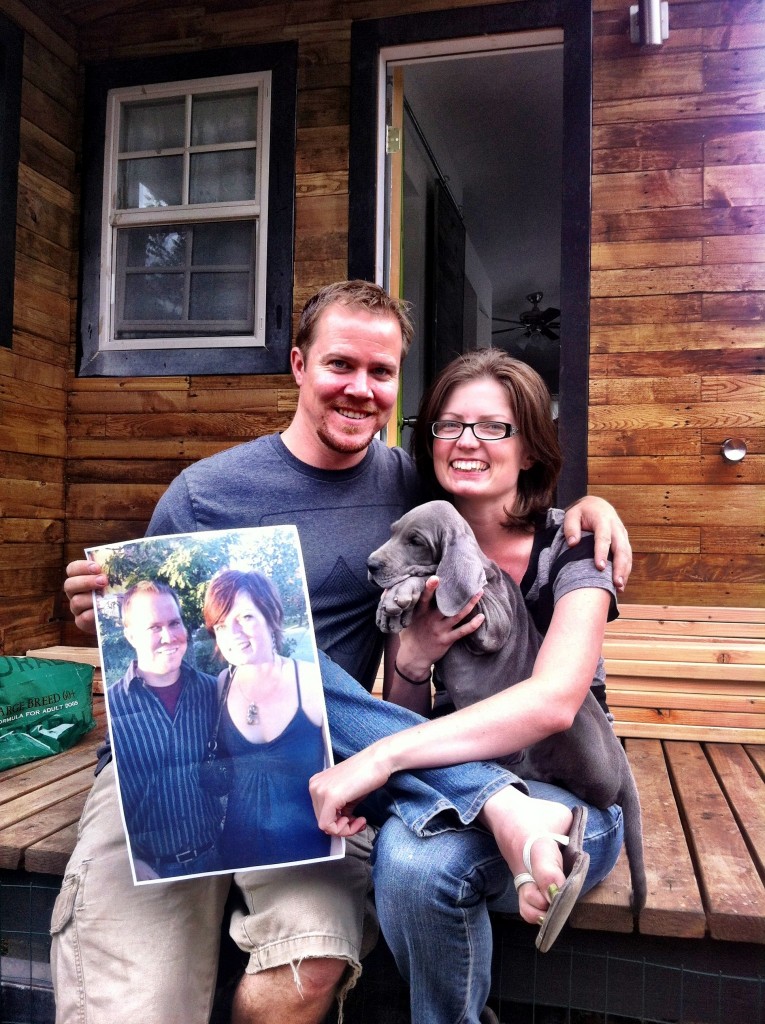 Macy Designed her Tiny House to be Expandable
Over the past few years, their family has grown exponentially – and I'm not just talking about Denver gaining 140 pounds! Macy and James have welcomed daughter, Hazel, and their newborn son, Miles, into the tiny house, but not before adding on an additional living space. Originally the house had an attached covered patio, but they recently enclosed the space to create a shared bedroom for their children. Today the "Mini Motives" tiny house is 232 square feet and accommodates two adults, two babies and a great dane!
We visited Macy about a month ago, when she was still pregnant with Miles. She was gracious enough to let us film a tour of her lovely tiny home for all of you!
Full video tour of the NEW "Mini Motives" Tiny House:
"I loved my patio, but I love my kid more." – Macy
Making Space for Tiny House Babies!
Macy's new extension includes storage shelves and drawers, an accessible exterior entrance, a children's play table and toddler-sized bunk beds. Hazel (1.5 years old) uses the bottom bunk while newborn Miles (born October 1st, 2015) co-sleeps with Mom and Dad. Eventually, the kids will grow into using both bunks. Hazel loves her new bedroom, and Macy says she often plays in her room, giving them both a little extra independence.
Built on a Tight Budget
Macy was able to build her original tiny house for $11,416, thanks to sourcing free and reclaimed materials. That's the most affordable tiny house we've ever heard of, and we've toured a few!  She found a used gooseneck trailer and spent almost two months restoring it. "It was really defeating," Macy admitted. "It (the used trailer) was critical for my budget, but, would I do it again? No." Other reclaimed items include Macy's windows and pallet siding, both of which she was able to source for free.
"I took one year's worth of rent payments, built this tiny house, and then I was going to live in it for two years so it pays itself back and then some," Macy explained. "We're at two and half years and, with this addition, we're going to try to get another 3 or 4 years out of it." 
Alternative Family Living in the Future
Macy and James have architecture backgrounds and they both are passionate about alternative, minimal living. Next they plan on building and living in a small shipping container on their property, designed so that their kids will each have their own personal space. "It will still be pretty small," Macy told us. "But it's definitely upsized from this tiny house." 
Raising Kids in a Tiny House
Although the majority of people living tiny are single (or couples without kids), there are plenty of families with children thriving in small spaces and disproving the common misconception that you CANNOT raise children in a tiny house! In fact, many people are of the opinion that living tiny can actually bring families closer together. The debt-free lifestyle given to tiny home owners also allows these families to save money for travel, college, or for future endeavors.
Like this article? Pin it for later:
If you're still not convinced it's possible to raise kids in a Tiny House, check out these websites:
---
*Learn more about Macy & her Tiny House on her website.
*Congratulations to Macy, James, Hazel & Denver on their new family addition: Miles, born 10/1/15!