Below you will find MY TINY HOUSE MATERIALS, including my favorite appliances and space savers. I have used each and every one of these items, and I've been satisfied with the functionality. That being said, there are many options out there. Use this list as a guide, and purchase the materials that work for your specific Tiny House design, lifestyle, and climate. If you're interested in the total cost to build, click here for an itemized breakdown of my Tiny House budget

PLANS AND TRAILER
My house was built on a 20-foot Tumbleweed Utility Trailer using Tumbleweed Cypress Overlook Plans. The plans included a detailed breakdown of basic construction Tiny House materials, such as structural lumber, sheathing, etc. I customized my plans, extending the dormers and changing the interior. For more information on the build plans and trailer I used, click on the links above.

TINY HOUSE MATERIALS – THE BASICS

KITCHEN
Refrigerator: This small 3-way Dometic fridge can run off of propane, AC or DC. Great off-grid option.
Stovetop: 3-burner, uses propane.
Oven: Solar oven (used outdoors)
Coffee Maker. No electricity, great space saver.
Toaster: Stove top option. Requires no electricity.
Sink: Yosemite Magnus2020 20″ x 20″ x 8″. 

I don't think it's available anymore, let me know if you find it!

Countertops – Alligator Juniper wood slabs (hollowed out to conserve weight)

BATHROOM

BEDROOM
Foam Mattress – Great for the loft. Breathable. I have the 5″ version which is no longer available.
Loft Skylight – opens completely for emergency exit
USB LED lights – great space saver & bedtime reading light

LIVING ROOM

TINY HOUSE ENTERTAINMENT CENTER


PROPANE
CLIMATE CONTROL
TINY HOUSE SPACE SAVERS

TOW KIT
SOLAR SYSTEM

OUTDOOR / OFF-GRID TINY HOUSE MATERIALS
CLEANING ITEMS
---
TINY HOUSE BOOKS I LOVE
Tiny House Decisions by expert Tiny Houser, Ethan Waldman, discusses the real challenges you face when going tiny. There are many decisions to be made, some big and some small. This book is a great guide for getting you over the hump and working towards your Tiny House dream. The book can be purchased solo or as a package with video tours and interviews. Click here for more info.
Other inspirational Tiny House books:
GET HELP WITH YOUR BUILD
The best construction guide on the market, in my opinion, is Tiny House Builder's Tiny House Design & Construction Guide. You can purchase it as a stand-alone book, or with a video tutorial package (recommended).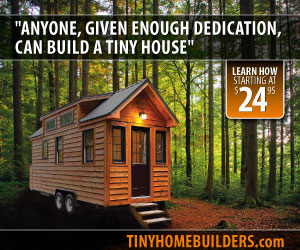 ---
TINY HOUSE SYSTEMS EXPLAINED
---
DIY TINY HOUSE TUTORIALS
---
---
Disclosure: Some of the links in this post are "affiliate links." This means if you click on the link and purchase the item, I will receive an affiliate commission. Regardless, I only recommend products or services I use personally and believe will add value to my readers.